Eddie Hession - Accordion
Despite being one of Europe's master accordionists, Eddie has spent his years with ZUM insisting that he had nothing to put on his biography. However, painstaking research and intense interrogation over the past decade and more has revealed that he is the accordionist of choice for pretty much every major Hollywood movie.

By the age of four, Eddie had harassed his parents so much for a drum kit, that their only way of attempting to disabuse him of the notion of playing music was to present him with an accordion! Despite this setback, he took to the instrument and went on to become All-Britain Solo Accordion Champion. Having decided that it was much more fun to play with others, he did not pursue a solo career and since then, he has worked with an endless list of stars from Luciano Pavarotti to Westlife, including The Corrs, Chris Rea, Ronan Keating, George Martin, Ute Lemper, Andrea Bocelli, Bill Wyman, Lesley Garret and Russell Watson to name but a few.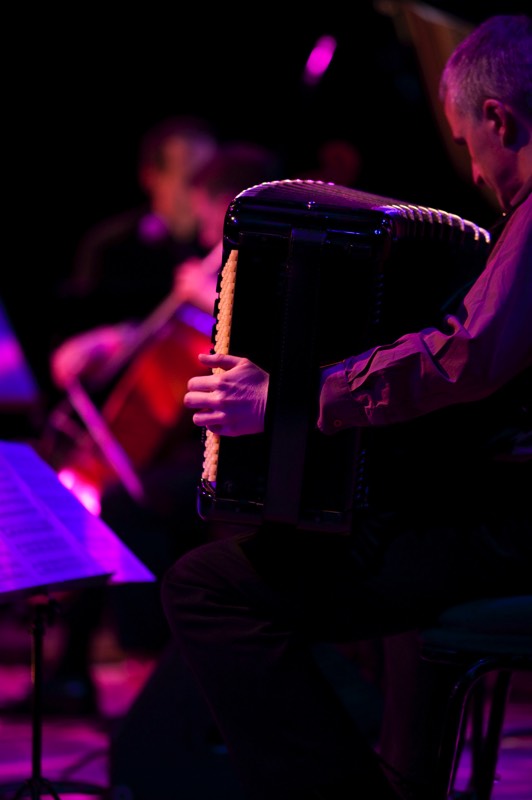 Triumphant ... tremendous fun
Financial Times
His movie soundtrack credits include Lord of the Rings, Chocolat, Mickey Blue Eyes, Evita, Shrek, Chicken Run, Gosford Park, Shipping News, Nine, Shall We Dance and Captain Corelli's Mandolin (where he even makes a screen appearance), although he considers the highlight of his career to be the recording of the theme tune for Captain Pugwash!

When not performing and recording with all of the country's finest orchestras, at the Royal Opera House, and being a regular fixture with the Strictly Come Dancing house band, his mind is more often than not preoccupied with deserts and if he was not a musician, you would most probably find him applying for official 'cake taster' positions with any of the major brands.
Link

Link

Link

Link

Link

Link

Link