Chris' busy career as a cellist, specialising in chamber music, has taken him throughout the UK, to Europe and to the Americas performing with the renowned chamber ensemble,
London Concertante
,
and as a reciatlist. He founded London Concertante in 1991 whilst studying at the Guildhall School of Music in London, and has since performed over 1500 concerts with the ensemble, performing to over a million people. He is an acclaimed lyrical cellist and has given solo recitals, concerto performances and chamber concerts all over the world. Miraculously, despite giving over 100 concerts a year, he still finds time to run his own orchestra and associated chamber groups, as well as dabbling in graphic design and photography, climbing mountains and he used to even teach people to ski down them (but that seems like a lifetime ago now).

...Grist whispered his eulogy from heights of the fingerboard with shimmering assurance......thoroughly appealing.
The Strad Magazine
These days, Chris difiantly continues to struggle around a golf course on an infrequent basis, in the misguided belieft that he will eventually break 80, spends hour upon hour in the kitchen, indulging in his culinary passions, as well as spending innordinate amounts of time on the internet, trying to source fine wine from around the globe for his enjoyment.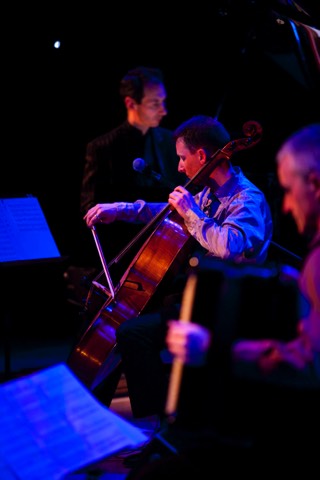 When Chris finds himself focused on the day job (music!), he brings qualities of the quickness of ear of a top record producer and an unrivalled breadth of taste to complement his vast travelling experience: from sub-Saharan singers to Hawaiian Blues and the latest dance music to Schoenberg and Biber. Above all though, he is a powerhouse of ideas and crazy projects and his finest talent is ignoring anything that gets in the way of bringing one of them to fruition.
Link

Link

Link

Link

Link

Link

Link